2 Ton Electric Reach Forklift Truck(FR20H)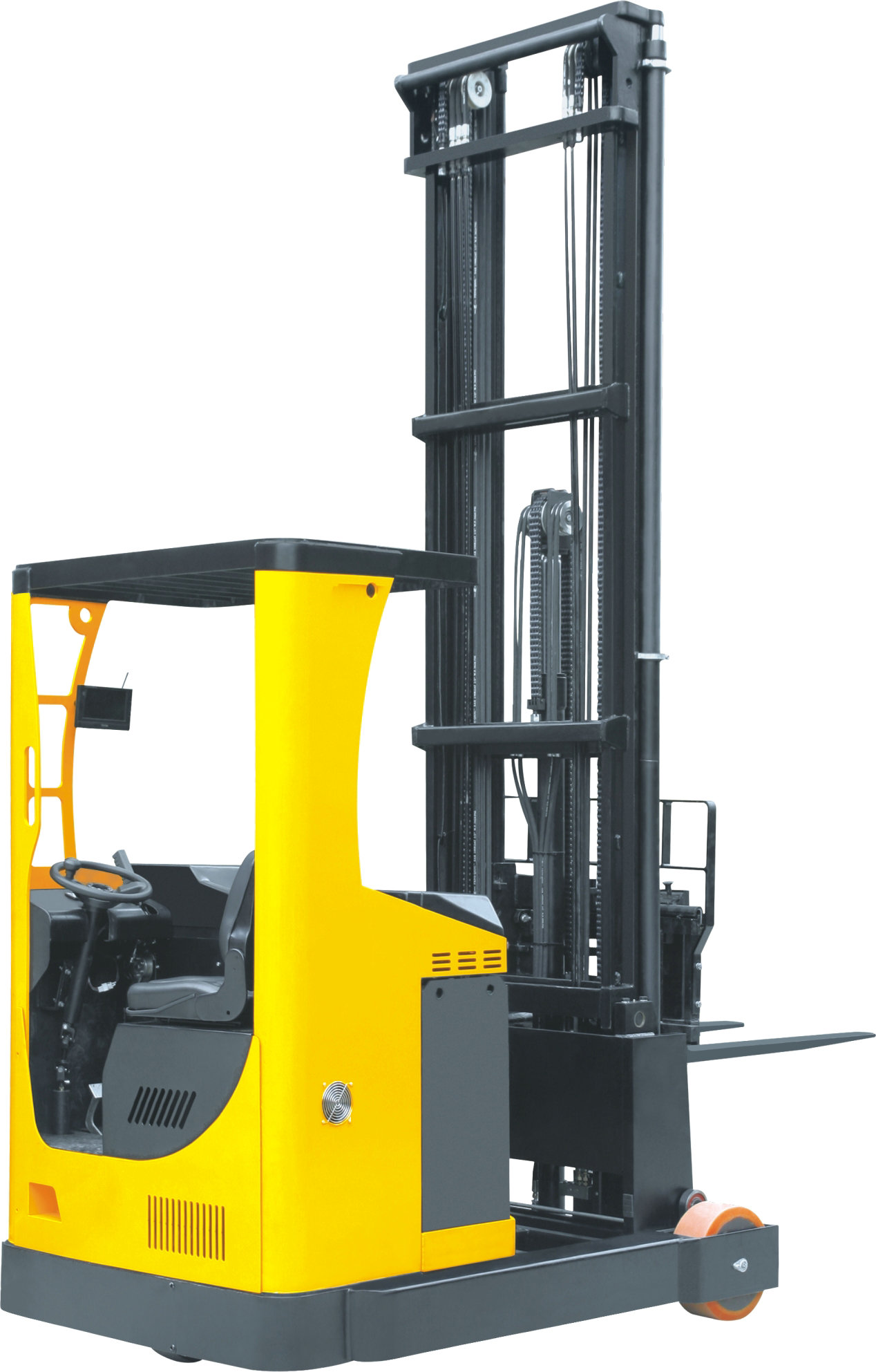 Stability
1.The large and strong chassis ensures sufficient stability of the
forklift.
2.The max lifting height can reach 12 metres.
3.Use "H"type mast steel is imported from Germany enhance the
use time and stability.
4.Large and confortable compartment with adjustable seat reflects
a concept of ergonomic design.
5.Use double controlleres to realize stepless speed regulation of
both lifting and travelling.
Safety and high efficiency
1.Have safety travelling speed limited device in the mast.Travelling
speed will automatic lowering when forks height is up 5M.
2.Full hydraulic steering system makes turning easy and flexible.
3.Adopts hydraulic brake for two front wheel and electric brake for
electric brake for drving motor,offer simple operation for travelling
and braking.
4.Integrated design of driving and steering system without chain
transmission,resolve the problems of chain fall-off caused by chain
transmission.
Easy maintenance
1.Battery changing offers two type methods:
(1)Side way battery changing by a trolley
(2)Automatic push-out and pull-in function by a simple battery
handle controller.
2.Bolt fixed back cover is easy to open for daily maintenance.
Option
1.Joystick hydraulic controller
2.LCD display and camera(LCD for cold storge are available)
3.Height selection and height position system,
4.EX explosion proof type.
STANDARD SPECIFICATION
Model
FR20H

(high mast)

Power
Electric
Operator type
Seated
Load Capacity
kg
2000
Lift height
mm
8000
8600
9500
Load centre
mm
500
Service weight
kg
4100
4150
4240
Wheels
PU Wheels
Drive wheel
φ406x152
Fork wheel
φ340x104
Wheels No. (front/rear)
2//1
Height,mast lowered
mm
3390
3590
3890
Free lift
mm
2700
2900
3200
Height,mast extended
mm
8800
9400
10300
Overhead Guard
mm
2200
Seat height
mm
1068
Height of crura
mm
270
Overall length/Length(without fork)
mm
2510/1950
Overall width/Fork-carriage width
mm
1510/928
Fork dimensions (L*W*T)
mm
1070*100*50
Distance between two forks/leg
mm
780/1090
Recah distance
mm
600
Ground Clearance (mast/chassis)
mm
90/80
Aisle width(pallets 1000/800x1200)
mm
2800/2700
Turning radius
mm
1820
Service brake
Hydraulic
Battery

电池

V/Ah
48/500
Battery dimensions l/w/h
mm
1220x350x750
Type of drive control
DC/AC
Leave Message
Contact Us